Oratorium is both a punctual and structural initiative for the personal development of Cameroonian youth. Designed in 2019, it is the first ever bilingual professional debate and speech contest in Cameroon. Speakers are recruited in three categories (Junior, Senior, Master) in both official languages: French & English. In a structural approach, it is a reference for the sustainable training of renowned speakers who will be the pride of Cameroon at international meetings or competitions of oratorical games.
The slogan "From words to action" gives speakers the opportunity to lead development initiatives outside the competition for the well-being of their communities.
For this 1st edition, the contest is limited to the city of Dschang. It includes two (02) registers (French [A], English [B]) and two (02) categories:
Junior category: Youth aged 14-18
Young people enrolled in the nine (09) schools below:
Lycée classique de Dschang
Lycée bilingue de Dschang
Lycée technique de Dschang
Lycée de Zenmeh
Lycée de Toula Ndzong
Collège Intellexi
Collège Notre Dame de l'Immaculée Conception
Collège Albert Camus
Collège Menoua Espoir
Those who are not registered in any of the above establishments can also "compete".
Senior category: Young people aged 18-25
Les jeunes inscrits dans établissements universitaires ci-après peuvent prendre part à la compétition :
Faculty of Law and Political Sciences-Uds
Faculty of Letters and Social Sciences-Uds
Faculty of Economical Sciences and Management -Uds
Faculty of Science -Uds
Faculty of Agronomy and Agricultural Sciences-Uds
Faculty of Medicine and biomedical sciences-Uds
The best speakers of Oratorium workshops and competitions will be able to join the national oratory team 2020 of Cameroon. If they wish, they will also be able to integrate our debate and speech networks in Cameroon and abroad.
140 speakers in the running
The competition is limited to 140 speakers, including 136 holders and four drafters, distributed as follows:

Participation in the 2019 Oratorium Contest is free, regardless of category. However, speakers will have to go through a rigorous selection system administered by professional CDA speakers.
Participate as a junior speaker
Pre-registrations will be done in schools, four (04) speakers and two coaches: one (1) coach for the "French" section and one (1) coach for the "English" section. In some institutions there will be more or fewer speakers depending on the potential and availability.
The casting will be done inside establishments. Each school will present to the organizing committee its best speakers accompanied by one or two coaches.
Participate as a senior speaker
Pre-registrations will be made online at www.oratorium.debatecameroon.org for three weeks. Once the speakers are pre-registered, they will go through a practical selection phase, called CASTING. Only 72 speakers of the pre-registered will be allowed to take part in the competition in two categories: DEBATE (two speakers per team) & PUBLIC SPEAKING (only 1 speaker).
Note 1: Speakers who take part in the debate competition may also take part in the public speaking contest.
Note 2: An internal regulation will accompany the organization of the competition.
Calendar of the event and program of the competition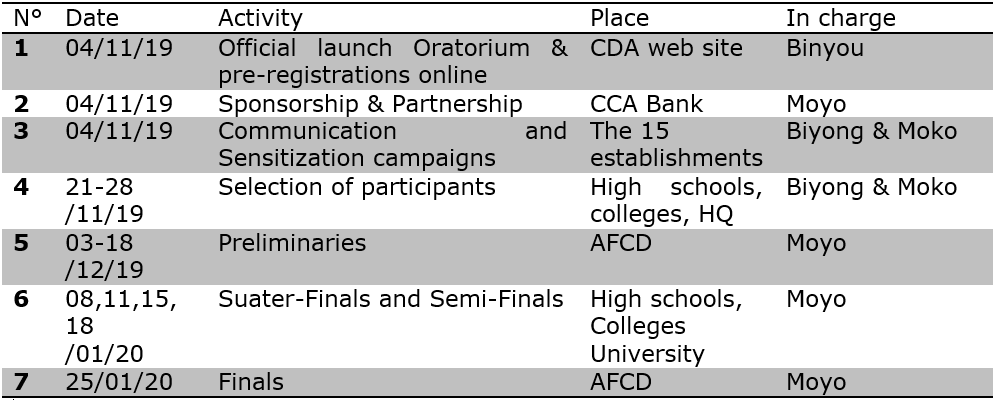 Note : This calendar can be modified.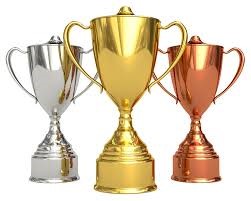 The best speakers from the competition will have the opportunity to win their selection ticket for the 2019-2020 Cameroon National Oratory Team. This team, made up of some twenty speakers, will represent Cameroon at the 2020 sub-regional (CAJO), Continental (COPAD, PAUDC, ASDC) and World competitions (WUDC, WSDC, Paris-Sorbonne, Lebanon).
The selection will entitle them to intense training in debate, public speaking, leadership and entrepreneurship throughout the year 2020.

A total of 16 awards, accompanied by a trophy, a distinction and a symbolic envelope.
The theme for this 2019 edition is "Migration & Living Together". It is in keeping with the spirit of the PARADE project to support IDPs. This theme will be scrutinized by the CDA Scientific Committee, which will propose motions for debate on the theme and labels for public speaking.
For junior speakers, debate and public speaking motions will be given to them one week before the meeting. It will be the same for senior speakers.
The competition will be arbitrated by an Adjudication college consisting of experienced speakers, professionals, volunteers, representatives of schools in competition and those of partners and sponsors. Headed by a chief of Adjudication Panel (CAP), it will have the mission to::
– Propose / validate the competition rules by category
– Upgrade the speakers in competition
– Design a teaching manual for speakers and judges
– Select the judges who will officiate the debate rounds
– Program the competition as a whole
– Arbitrate in case of advertising or disputes
– Propose a code of conduct to speakers
– Amend / disseminate the charter of the competition
– Make suggestions to the organizing committee.
The closing ceremony of ORATORIUM will be marked by two mega-events: the closing ceremony of phase 1 of the PARADE project, then the 10th anniversary of the CDA, highlighted by an evening of Galaa to which will be invited all the speakers in the running and judges. At this ceremony, they will be awarded their prizes and distinctions.
Coordination : M. Marius Yannick BINYOU BI HOMB
Convener : M. Arnold Moyo DONGUE
Président of the Scientific Committee : Pr. Alain Cyr PANGOP KAMENI
Chief Adjudicator : M. Willy Endelson TSAGUE DONGFACK
Deputy Chief Adjudicator: Mlle Prisca MOKO
Communication Director : M. Nicolas NTAMAG BIYONG
The French Embassy in Cameroon
The Franco-Cameroonian Alliance of Dschang (AFCD)
Cameroon National School Debate & Speech Council (C.N.S.D.E.)
RIPAO International (www.ripao.org)
Uds Debate & Leadership Club
African Leadership Academy
Association Jeunesse Entrepreneuriale
The projected budget of ORATORIUM 2019 amounts to two million and forty-three thousand francs CFA (2,043,000).